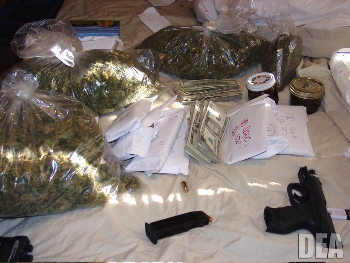 Strike up the Fulmer Cup band as WVU is on the board.

One of the concerns when you have a so-called "players coach" is how will the coach react when the players get in trouble. Anyone that watched the program under Rodriguez saw some Bowden-like similarities in differences in handling trouble among the players. Now Bill Stewart will get his first chance to show the disiplinarian as John Holmes, James Ingra, and Ed collington where all arrested last night with felony possession of marijuana with intent to deliver.


As Monongalia County sheriff's Deputy D.W. Wilfong and another officer were responding to a possible domestic disturbance call at an apartment complex, Wilfong saw three males getting into a car and acting suspiciously, according to police reports.

Wilfong followed the car and pulled over the driver -- identified as Holmes -- for speeding after clocking the vehicle going 39 miles per hour in a 25 mph zone.

After another deputy arrived and began talking to Ingram and Collington, a strong odor of marijuana was detected coming from the passenger compartment of the vehicle, according to the reports.

Deputies found packaged bags of marijuana in the vehicle and in Ingram's right shoe.

After Ingram allegedly told one of the deputies there were also drugs at his apartment, investigators found more marijuana and bags used to package the drug in a bedroom.
The old three black guys getting into a car = suspicious trick, works every time for probable cause. Ingram should get the most punishment for being stupid enough to admit there were more drugs at the house. Everyone that was seen Wonderland knows how this ends for Holmes. Someone is getting their head beaten in and he'll be on the run soon. Collington may have just made the worst move of his career at a time when WVU is depleted at running back.
Stewart has said he will look into the incident further and wait until he has all of the information before making a decision. The guess here is that the Mountaineers have lost three players unless the charges are reduced. In
West Virginia
the felony sale or possession can be punishable from 1-5 years and a fine up to $15,0000 which takes a lot of pornos to make.
UPDATE:
According to the Dominion Post the weed was divided into several one gram bags, hence the intent to distribute and the felony intent charge. Quite ironically newish sports reporter Stefanie Loh had a column next to the news with the headline, "No more Pacmans under Stew."