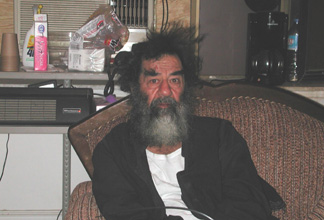 Every family has that one person that causes unneeded embarassment. Whether it be an incompetent criminal, a child molester, a Nazi sympythizer, or a Marshall graduate there is always someone that causes the family shame. Our family is no different. We have a Maryland apologist. While other family members try to ignore the problem or pretend they aren't related I feel that the best way to deal with something like this, which is so painful, is to attack it head on. While he may never overcome his dimentia, at least I can say I tried to show him the way with "facts." And in the every cloud has a silver lining category I discovered a couple of new and interesting links while looking for historical facts on WVU and other schools in basketball and football.

The above links will take you to all time records in basketball and football respectively. I was pleasently surprised to discover that WVU is currently 26th all-time in basketball and tied for 15th in football. The only team in the top ten in both is God's America's NBC's team Notre Dame.

Some schools relevant to WVU fans:
Pitt is unranked in basketball (top 50 all-time only) and 21st in football;
Louisville is 23rd in basketball and 96th in football;
Penn St. unranked in basketball and 6th in football;
Virginia Tech is unranked in basketball and 22nd in football;
Marshall is unranked in basketball and 62nd in football; and
Maryland is unranked in basketball and 36th in football.

Now the all-time wins doesn't neccessarily correlate with a better program as Vanderbilt has more all time wins (football) than both Miami and Florida State and Fordham is number 35 in all time basketball wins, but it is interesting to see where your school ranks historically when compared to recently.

Another aspect of the football database is that if you go to Div I teams individually you can look at historical records vs. oppenents. For instance WVU is 28-22-1 vs. Virginia Tech, but 0-1 vs. Mahoning Cycle Club (OH) and we got beat 26-0. Those biking bastards.