Yesterday was a long day. Even longer I'm sure for tummysticks - he drove - and I sprinkled his car with Doritos and strange smells. Sorry about that. Getting home late and my head cold together managed to keep me in bed until 1:30 (as if I need the excuse to sleep that late).

WVU played its best game of the season last night. Every segment of the team played great. Well, except for Pat McAfee, but that's OK because at least he got his name right. Unlike the game announcer who went through at least 14 different pronounciations for "McAfee". How freaking hard is it to say, "McAfee"?

Wicks had two picks. Larry Williams found his homework. Patrick White continues to make no mistakes (except one irrelevant fumble at the end of the first half). Slaton contributed 147 total yards and 3 touchdowns. Noel Devine (who?) said "Hello" to the nation. Rich Rodriguez called much better plays.

I could keep writing good things all night, but there is also plenty of room for improvement. On offense, it again took about a half for Rodriguez to find the best way to use his weapons. On defense, while the level of intensity was much better and the play calling much more aggressive, there were still lapses and some loss of focus. There were still a few missed downfield blocks. And an offensive lineman occasionally got plowed 5 yards deep on the snap.

On a side note, anyone remember Brian Knobbs? Well, he's apparently resurfaced: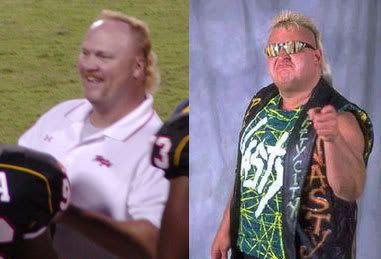 Anyway, here are some select photos with the remainder being available at our photobucket page.